"At Boxing Central, we take immense pride in being the vanguards of the boxing fitness industry. We're not just trendsetters; we're the ones who establish the standards, and the best part is, you reap the rewards"

Boxing Central: Pioneers in Boxing Fitness
With over 22 years of experience, Boxing Central stands as one of New Zealand's oldest and most revered boxing fitness gyms. During this time, we've been home to countless fighters and have staged some incredible shows. We've witnessed the ebb and flow of fitness trends and the rise of corporate boxing, all while keeping the essence of the sweet science alive.
Let's be honest, true discipline isn't something you master in a mere 12 weeks. That's why, for the first time ever, we've created a boxing facility dedicated to teaching you the art of the sweet science. We believe in gradual progression, from building a solid foundation to refining your skills with slick hand pads and engaging interaction drills. Whether you prefer the camaraderie of group classes or the focused intensity of our grid, Boxing Central is the place to embark on your journey of learning and growth.
Join us, and let's explore the art of boxing together, one step at a time.

Group Boxing Fitness Classes: Unleash Your Potential with Boxfit and Padbox
Experience fitness like never before with our exhilarating group boxing classes, Boxfit and Padbox. These classes aren't just about getting in shape; they're your ticket to a fast, fun, and engaging journey that'll have you coming back for more.
Unlike your ordinary gym workout, our group fitness sessions are designed to be both motivating and enjoyable. You have the flexibility to join us as a casual participant or become a valued member to enjoy savings on your fitness journey. We believe in delivering results, and if you commit to attending at least three classes per week, we're confident you'll witness impressive changes in your fitness and experience that amazing, invigorated feeling.
Discover the joy of getting fit with us. Join our Boxfit and Padbox classes and unlock your potential while having a blast. Your fitness adventure starts here!

Group Boxing Learning Classes: Master the Art of Boxing
Our Group Boxing Learning Classes offer a unique and effective way to elevate your boxing skills. These sessions are split into two parts, ensuring a well-rounded learning experience.
In the first half of the class, you'll engage in group learning, where you'll acquire essential boxing techniques and knowledge. The second half is where the real magic happens, as you step onto our specialized grid to apply what you've learned and work through rounds autonomously.
Our program is structured into four distinct levels, with two levels covered in each class. Our qualified and supervised coaches are here to guide and motivate you through the rounds, ensuring you make progress with every session.
At our state-of-the-art training center, you'll experience a level of confidence in your boxing skills that you've never seen before. Join us on this exciting journey to master the art of boxing and punch with confidence.

Boxing Courses: The Path to Mastering the Sweet Science
Welcome to our Boxing Courses, where we are dedicated to teaching you the art of boxing with proper technique, while instilling in you a massive dose of confidence, self-control, and self-discipline.
Our flagship program, the renowned "Zero To Hero" boxing course, is designed for those starting their journey in the sweet science. In just 12 weeks, we'll take you from a beginner to mastering interaction drills. It's a transformative journey that promises to leave you with a strong foundation and an understanding of boxing that's second to none.
However, it's important to note that this course is not about making you battle-hardened and ready to fight in the ring by the end. It's a comprehensive learning experience that sets you on the path to becoming a skilled boxer. Don't miss out on this opportunity to embark on a remarkable journey into the world of boxing.

World-Class Facilities at Boxing Central
At Boxing Central, we take pride in being one of the largest boxing gyms in the southern hemisphere. Our commitment to excellence is mirrored in our state-of-the-art facilities, meticulously designed to meet all your fitness and boxing needs.
Here's what you can expect when you step into our fully equipped training centre:
Over 40 Punching Bags: Whether you're a seasoned boxer or just starting, we've got the punching bags to help you hone your skills and build your strength.

Full-Size Boxing Ring: Step into our ring and experience the thrill of a real boxing match. It's the perfect space to practice your moves and spar with fellow members.

Comprehensive Training Equipment: We offer a complete range of boxing, weight, and cardio training equipment to cater to your unique fitness requirements. Your journey to becoming the best version of yourself starts here.
We're continuously improving our offerings to enhance your experience, with exciting features on the horizon:
Showers and Changing Rooms (Coming Soon): Get refreshed and ready to conquer your day after an invigorating workout.

Lockers (Coming Soon): Securely store your belongings, so you can focus on your fitness journey.

Retail Shop (Coming Soon): Find the gear and accessories you need for your boxing and fitness goals.

Glove Hire: Don't worry about bringing your own gloves; we've got you covered.

Free Parking: Enjoy the convenience of free parking in the Wilson Park next door, making your visit hassle-free.
At Boxing Central, we're more than just a gym; we're your partner in achieving your fitness aspirations. Come experience our world-class facilities and take your fitness journey to new heights.
If you love boxing fitness and you're ready to take things to the next level, you've come to the right place. We've got plenty of options for you to better your boxing skills, give sparring a go or even have your first fight.
Fighters classes run 5 nights a week at 5:30. We have four experienced coaches who will share their knowledge and passion for boxing with you. All corporate, amateur and professional boxers are welcome, our coaches can develop a journey in boxing for you.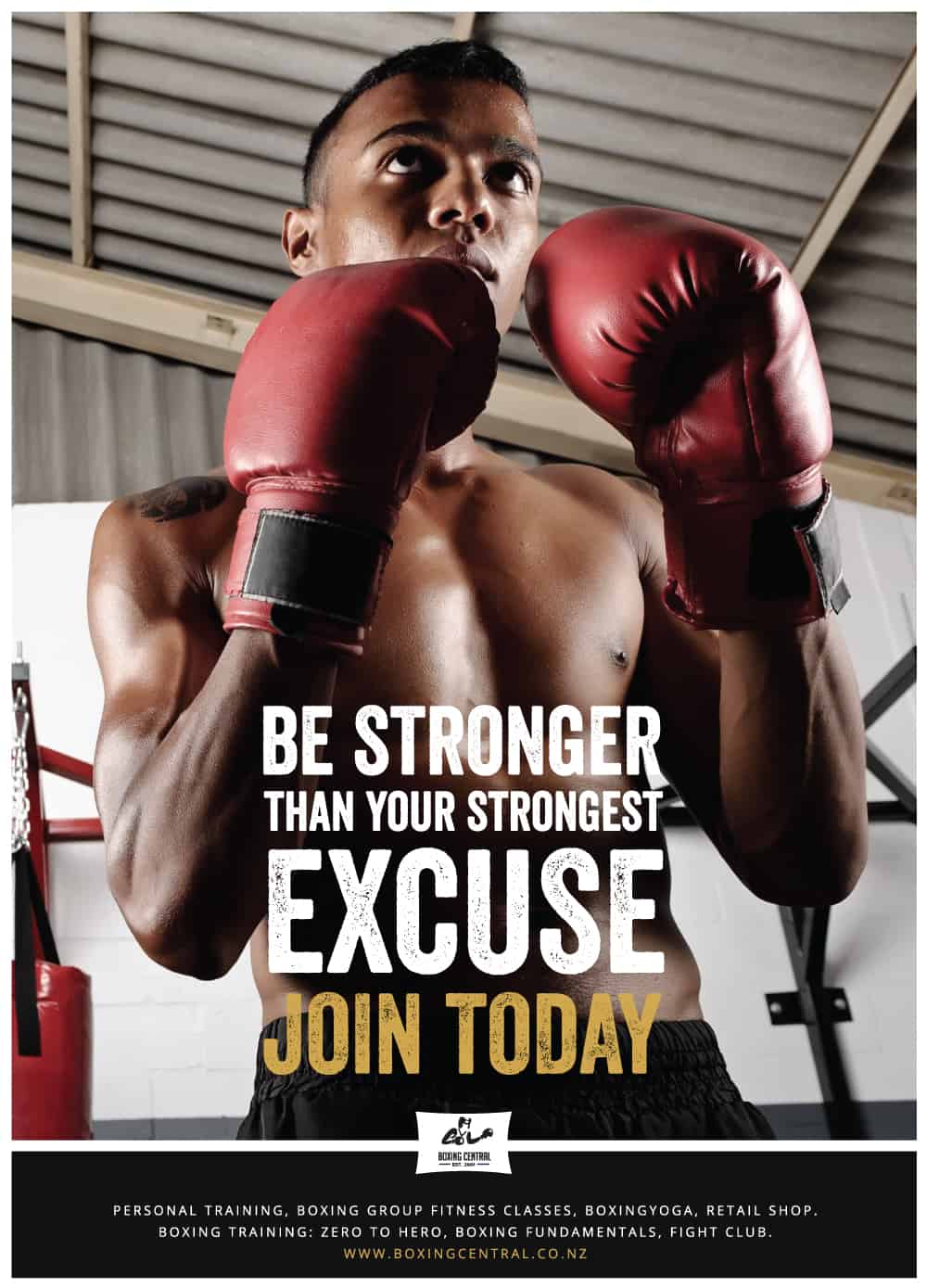 New To Boxing Central? Book A Free Class